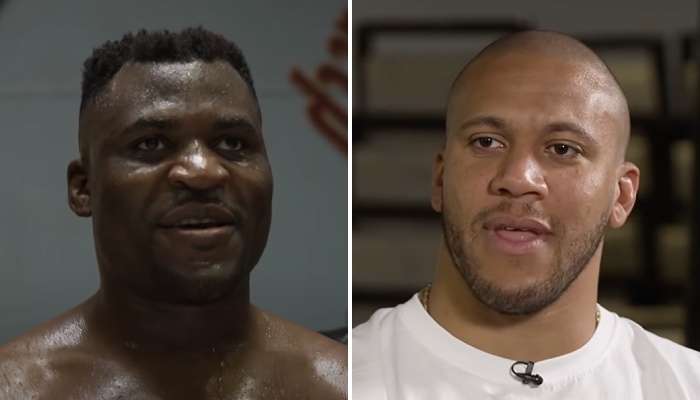 @francisngannouufc / BT Sport (DR)
Former training partner, but also victim of Francis Ngannou, Ciryl Gane could not escape the rumors concerning the future of the Cameroonian. Announced starting from the UFC, the latter was the subject of a long declaration by Bon Gamin!
Their rivalry, if it could be considered that way, was a godsend for the UFC. Both former and current residents of the MMA Factory, Francis Ngannou and Ciryl Gane had established themselves as the best heavyweights in the federation. Their only confrontation, held a year ago, should not however be known immediately in view of Dana White's recent revelation about the Predator.
Ciryl Gane indifferent to the Francis Ngannou case
At war with the UFC for several months over his contract, Ngannou is apparently preparing to continue his journey elsewhere, and why not in one of the most violent leagues in the world. A scenario to which Gane was necessarily called upon to react on the sidelines of UFC Vegas 67, which he was able to attend on Saturday, and which clearly does his business as he clearly recalled in a press conference:
Everyone knows the situation between Francis and Jon Jones. How long were we going to have to wait? How many times were we going to have to wait for this fight to happen again? So, I just wanted to make everyone understand that I was there. And I think the UFC made a great decision. 24 hours after my tweet, I received the good news. I am very, very happy.
Certainly satisfied to have been able to obtain a duel against Jon Jones, Gane may never again have the opportunity to take his revenge on his first and only executioner. A data which does not however seem to give rise to regrets in him:
About three days after the Francis fight, after I lost, I moved on. I focused on the future.
No question for Bon Gamin to ruminate on the past, and to run after Francis to clear his honor by obtaining his revenge against him. Instead, he prefers to let the Cameroonian manage his career himself, without trying to interfere in this soap opera:
I'm not in his head. I don't know what his plan is. I know he wants to put pressure on the UFC, on Dana and on Hunter (Campbell, chief commercial officer of the UFC, editor's note). He posted photos on Instagram related to another organization, he put stuff in relation to a boxing fight with Tyson Fury… He might want a change of scenery, I don't know. But that's not my problem.
It is indeed better to focus now on the shock that awaits him against Jones, rather than on this file which does not concern him directly!
Forgotten, the infuriating defeat suffered against Francis Ngannou a year ago: Ciryl Gane wants to move forward, and therefore attaches little importance to the career choices of the Predator. This one is, whatever happens, big enough to lead his boat alone!